7 Days Erasmus+ Training course in Sicily – Italy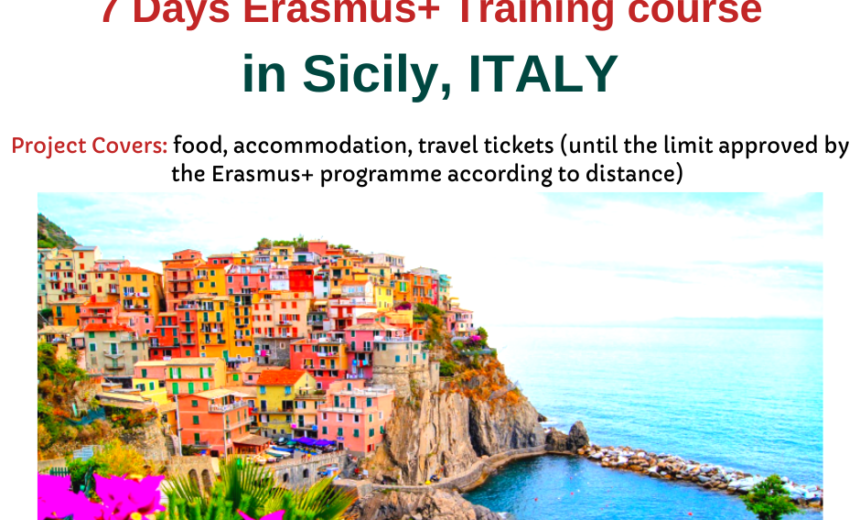 Training course in Sicily – Italy
*Call for participants coming from North Macedonia , Turkey , Estonia , Serbia , Spain , Austria , Bulgaria , Cyprus , Czech Republic , Greece
* Strauss APS – Sicily is looking for participants for "LEVEL UP YOU(TH) – Upgrading decision-making in youth participation" – a Training Course under Key Action 1 of the Erasmus+ Programme
Target group:
1. Youth Workers / Youth Project Managers
2. Youth trainers/workers who are actively working with young people as a professional or on the voluntary basis
3. Activists in local communities working with young people and interest in policymaking and participation
4. Aged 18+ Date of the training: 3rd – 11th May (including arrival and departure day)
🌍Venue: Nicolosi, Sicily, Italy , close to Etna
Group: total number of international participants: 20 participants, 2 per each country
Project Covers: food, accommodation, travel tickets (until the limit approved by the Erasmus+ programme according to distance)
Topic: To increase the awareness of youth workers and young people and equip them with tools to construct an enabling environment for youth workers and youth organisations to take part in political decision-making and problem-solving processes.
Description: Youth Workers and Youth Organisations nowadays are becoming more and more distant from politics, with almost a feeling of rejection or even repulsion towards the essential governance and core system of democracy.
This training course wishes to provide a background set of competences to bridge that gap and to foster the grass-root youth sector to be, both, more interested, as well as becoming a key player in the world of politics and policymaking.
A training course which takes youth workers on a journey through politics, policies, decision-making and advocacy in order to bring young people closer to the democratic institutions and to have their say on the matter by exploring the implications and specifics of citizenship and participation, up to how to create and draft a policy paper.
For more info and candidacy please write to arcistrauss@arcistrauss.it
Application form CLICK
Coordinating org: Strauss APS http://arcistrauss.it/